In the River of Love ~ the 2007 Australian Goddess Conference
by Alicia Sherwood MA (Ancient History) www.moontree.net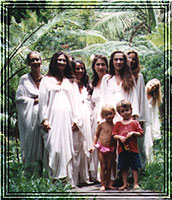 A group of 90 odd women gathered in a sacred Temple space, full of warmth and beauty, is truly a sight to behold. It is the unique quality of the energy which graces such a gathering, for this was the Australian Goddess Conference for 2007. Held on the 12th and 13th of October, this was the second such conference hosted by the Goddess Association in Australia (G.A.I.A.), and what a time it was!
A return to the heart centre…
Lucy Cavendish, well known Australian Witch and author of White Magic, warmly declared 'This was the best event I've been to, and I've been to a few…[check and complete]'. So, what is the Goddess Conference about, and what makes one successful?Essentially, the Goddess Conference is an all-woman event, created in honour of Goddess and Her daughters, where women can come into a sacred space to be nourished, to find healing, to grow and learn and to strengthen their understanding and embodiment of their sacred self and their Path. The organizers provide the opportunity for this magic to weave by creating a space of beauty, a Temple space. Their careful offering of workshop topics, ritual, and skilled presenters and facilitators, selected based on a potent theme, this year in honour of Aphrodite: Sacred Sexuality and Personal Freedom, helps ensure that attendees have occasion to dive deep into the magic that is the 2–day Goddess Conference.
A wellspring of 'success'…
In terms of its success, Goddess Association in Australia's President Patricia Corner says: 'I sit like the great lioness licking her paws, satisfied that the women of GAIA gathered and celebrated in the true spirit of connectiveness. Women connected with their womansoul and the magic spun like a glorious gossamer thread, opening all too new friendships, a deeper sense of belonging and sacredness as the festivities attained the full bloom of benevolence.The magic was attained as a result of the hard working GAIA management team and the wonderful men and women who shared in the many tasks. All were enthusiastic and cheerful in the care given to detail necessary to weave this magnificent event. I personally say thank you ALL for your participation, blessings bee!'
Quite literally being in the temple of the Great Mother Goddess Aphrodite can be an overwhelming experience for some, though the wonderful diversity of the conference program eased women through      this awesome river of love.
The Opening Ritual was, in fact, that. Not only a beginning to the conference, but a simple opening of self as scores of women processed to the altar to make their offering and prepare for the invocation of Aphrodite. Throughout the two day period, the seven threads of Aphrodite's girdle were woven in circle to the accompaniment of chanting, so that each delegate could take home her own threads in   remembrance of her connection to Goddess and the other women who she joined on this beautiful journey. Another important initiative of G.A.I.A. is the 'Honour Roll', which has been created in honour of 'those women who have gone before us'. Thea Gaia, Anique Radiant Heart and Marie Tulip were acknowledged in particular for their pioneering work.
Anique Radiant Heart also reacquainted the group with the sacred serpent energy, as She rose through  our bodies and reverberated to the sound of many names, and Peru the Singing Woman delighted   everyone with her surprise appearance. Peru's magic was one of potent simplicity, as we stood close in a core, giving voice to the sacred Yoni chant in a welling fountain of healing and ecstasy. For concurrent workshops across the two days, women were indeed spoilt for choice! The Cosmological Power of Allurement with Glenys Livingstone awakened us to our own potent beauty through ritual.  Other attendees chose to explore the healing of sexual wounds with Jane Meredith, or 'Goddess Health Naturally' with Jacinta McEwen. The truth of Mary Magdalene was explored with Kerri Ryan, Hollie Baker delved into the wisdom of Aphrodite's Priestesses and Jude White took us on a journey of bodily pleasure and the healing power of receiving. There was sensuality, there was freedom…
On the Friday evening, Jane Meredith facilitated a beautiful ritual seeking the diversity of embodiment     of Aphrodite, before the women were blessed with a vision of the splendour of Her dancing form; Tanishka from Daughters of Ishtar (Melbourne) was the vessel of this grace. The Saturday keynote  program included a divinely intimate ritual with Patricia Corner, connecting in love with our Sisters, before a fabulous collective with Lucy Cavendish, evoking our Sea Priestess essence. And of course, Laura Doe and her sacred yoni puppets brought huge belly laughs; an honouring to the Goddess Baubo indeed!  The Australian Goddess Conference 2007 was a magnificent occasion! Who can wait for next   year's offering?
As Peru reminded us 'There is only one woman'… And so it is.
The Australian Goddess Conference for 2008 Gaia: Earth Alchemy will be held at the Albert Waterways Hall, Broadbeach, on the  11th  & 12 October, with an Open Day